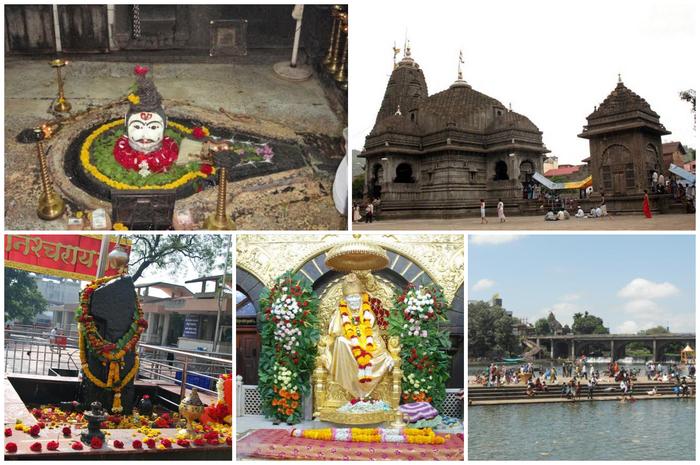 Enjoy a 5day religious trip from Mumbai. Visit Sai Baba Temple, Shani Shignapur temple&Trimbakeshwar; temple. Package includes round trip from Mumbai.
Nashik:
Nashik is one of the most important cities of Northern Maharashtra. Nashik, in Maharashtra, is situated at a distance of 200 km from Mumbai (Bombay) as well as Pune. The city has become the center of attraction because of its beautiful surroundings and cool and pleasant climate. Nashik has a personality of its own due to its mythological, historical, social and cultural importance. The city, vibrant and active on the industrial, political, social and cultural fronts, has influenced the lives of many a great personalities. The river Godavari flows through the city. Temples and ghats on the banks of Godavari have made Nashik one of the holiest places for Hindus all over the World.
Mumbai:
Mumbai, formerly known as Bombay, is the capital city of the Indian state of Maharashtra. It is the most densely populated city in India. Along with the neighbouring regions of the Mumbai Metropolitan Region, it is one of the most populous urban regions in the world and the second most populous metropolitan area in India. It is also the wealthiest city in India and has the highest GDP of any city in South, West, or Central Asia. Mumbai has the highest number of billionaires and millionaires among all cities in India. Mumbai has a tropical climate with seven months of dryness and peak of rains in July. The cooler season from December to February is followed by the summer season from March to June. Between June and September, the south west monsoon rains lash the city. The average annual temperature is 27.2 °C (81 °F), the average maximum temperature is 31.2 °C (88 °F), while the average minimum temperature is 23.7 °C (75 °F). Mumbai's energy is contagious and the city has something to offer to everyone – be it education, profession or entertainment. The colonial buildings are a sight for everyone walking on the streets between Churchgate and Colaba. The best time to visit the city lies from January to March and October to December. Mumbai has some of the best eating and shopping options in India.
Shirdi:
Shirdi is a town in the Ahmednagar district of Maharashtra in India. It is located 185 km east of the Arabian Sea shoreline. Shirdi was where the great saint Sai Baba lived till his samadhi in 1918. Today, it is a pilgrimage center and millions of his devotees from all over the world come each year to pay their respects. The best time of the year to visit Shirdi is January through March. April to June is summer, followed by the monsoon. Pilgrim arrival peaks between September and November when many Hindu festivals occur. Baba's death anniversary is commemorated in the month of October, the exact date depending on the Hindu calendar. Some of the most important festivals in Shirdi are Dussera, Guru Poornima and Baba's death anniversary. During this time lakhs of devotees come to Shirdi. Checkout more about Shirdi on our blogs: http://www.gozocabs.com/blog/tag/shirdi/